CRIMJUST holds its Annual Meeting for Latin America and the Caribbean in Cartegena, Colombia
 1-3 February 2022 - The EU-funded CRIMJUST Global Programme held its Annual Meeting for Latin America and the Caribbean in Cartagena, Colombia, to discuss the programme's progress as well as to outline future implementation. This meeting, bringing together 26 law enforcement and prosecution officials from eleven countries in the region, provided a platform to ensure the programme's technical and support remains aligned with beneficiaries' needs, priorities and expectations. Discussions were complemented by insights from CRIMJUST key partners, including SEACOP, AIRCOP, Maritime Analysis and Operations Centre (MAOC) and El PacCto.
This Annual Meeting was inaugurated Mr. Matthew Willner-Reid, Coordinator of the EU Global Illicit Flows Programme (GIFP), joined by Mr. Tito Contreras, Cooperation Officer of the EU Delegation to Colombia. In his remarks, Mr. Willner-Reid underscored the need for multi-stake holder projects, such as CRIMJUST, to ensure countries hold the necessary tools and networks to prosecute transnational drug trafficking. These were followed by remarks from Mr. Diego Quintero, CRIMJUST Team Leader for Latin America, who expressed his appreciation, on behalf of UNODC, to the EU for its ongoing support as well as reiterated the programme's commitment to overcoming barriers to criminal justice cooperation.
With nearly 300 capacity-building activities implemented to date, and over 250 cases exchanged, CRIMJUST, implemented by both UNODC and INTERPOL, showcased the various forms of support provided and available to beneficiaries. Of note, programme officials illustrated past successes in mapping out, identifying and arresting high value targets of criminal networks following major seizures. Its intervention was followed by a series of presentations from key partners, including SEACOP, AIRCOP, Maritime Analysis and Operations Centre (MAOC) and El PacCto in an effort to not only coordinate complementary criminal justice responses, but also communicate available international networks available to beneficiaries.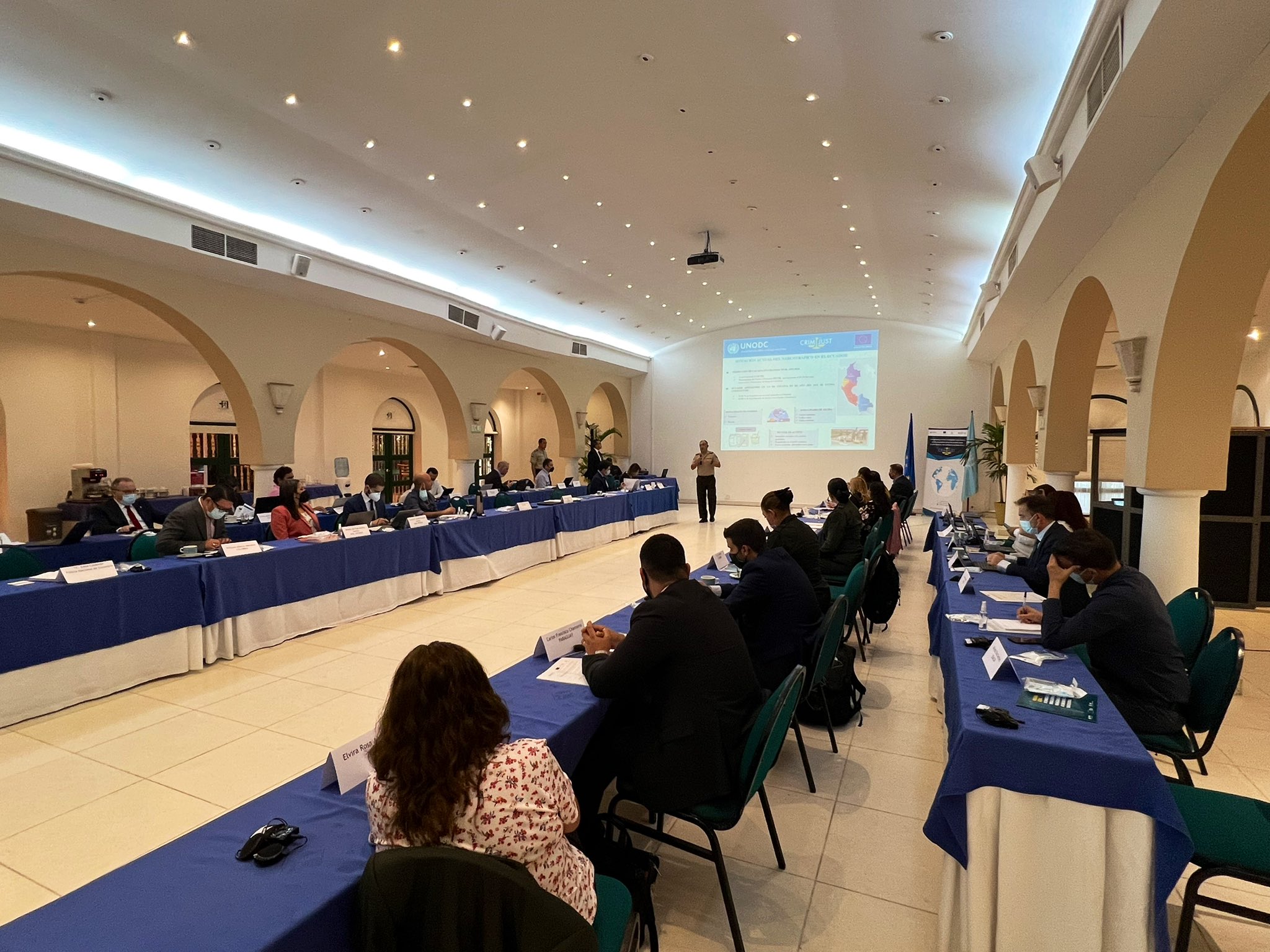 Discussions during this Annual Meeting were informed by the analyses and observations of current drug trafficking trends characterizing respective countries and regions shared during the CRIMJUST Investigative Case Forum two days prior. Delegations shared results of investigations into major drug seizures in 2021, helping disseminate investigative strategies and identify opportunities for joint investigations.
Such presentations, and ensuing debate, helped shape CRIMJUST future priorities for 2022, including the continued promotion of greater criminal justice cooperation beyond seizures and of the use of special investigative techniques. In addition, CRIMJUST committed to releasing publications on cocaine production and trafficking, expanding its support to Central America and the Caribbean, and finally coordinating and contributing to integrated initiatives between AIRCOP, SEACOP and GIFP.
This event was organized with the continued support and participation of Colombia to the CRIMJUST Global Programme. Since 2016, Colombia has both contributed and benefited from CRIMJUST inter-regional trainings and forums, including SIMCI trainings on cocaine production technical and chemical processes. As of 2018, CRIMJUST and the Colombian Anti-Narcotics Agency have worked together to enhance the capacities of International School for the Use of Police Force for Peace (CENOP)
This CRIMJUST activity was funded by the European Union under the framework of the "Global Illicit Flows Programme" [GIFP]). It joins existing efforts to enhance law enforcement and judicial counter-narcotic strategies beyond interdiction activities and to foster transnational responses targeting each stage of the drug supply chain.
For more information, please visit: