CRIMJUST holds Regional Investigative Case Forum to tackle Drug Trafficking via General Aviation in Latin America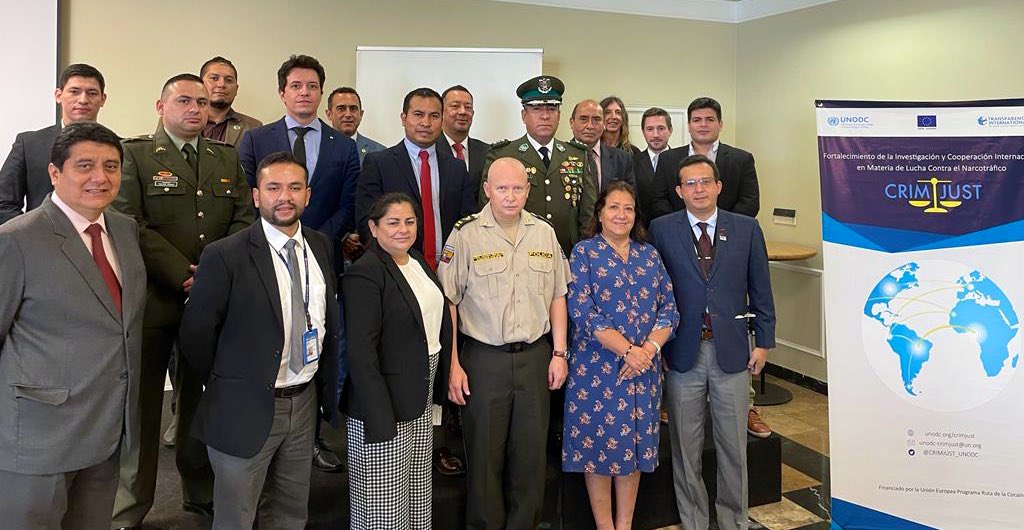 28 - 29 March 2022 - The United Nations Office on Drugs and Crime (UNODC) and Interpol held an Investigative Case Forum in Lima to address the rising use of general aviation to traffic drugs from production areas to Southern Cone countries. This forum was organized under the framework of the CRIMJUST Global Programme, funded by the European Union Global Illicit Flows Programme (GIFP), in partnership with the Ibero-American Network of Anti-Drug Prosecutors (RFAI) and COLIBRI. It brought together 18 law enforcement and prosecutors from Argentina, Bolivia, Brazil, Colombia, Ecuador, Paraguay and Peru (including 3 women) to enable sharing of intelligence and evidence as well as to progress requests for cooperation, with a view of building stronger cases to prosecute drug trafficking in the region.
This forum was inaugurated by UNODC Representative for Peru and Ecuador, Mr. Antonino de Leo, as well as by Mr. Ricardo Soberon, head of the Peruvian National Commission for Development and Drug-Free Life – DEVIDA. While Mr. Antonino de Leo argued that only greater criminal justice cooperation could effectively stymie, prosecute and deter organized crime, Mr. Ricardo Soberon called for comprehensive and multidisciplinary approaches to reduce illicit drug trafficking in line with human rights, as exemplified by the Peruvian National Policy.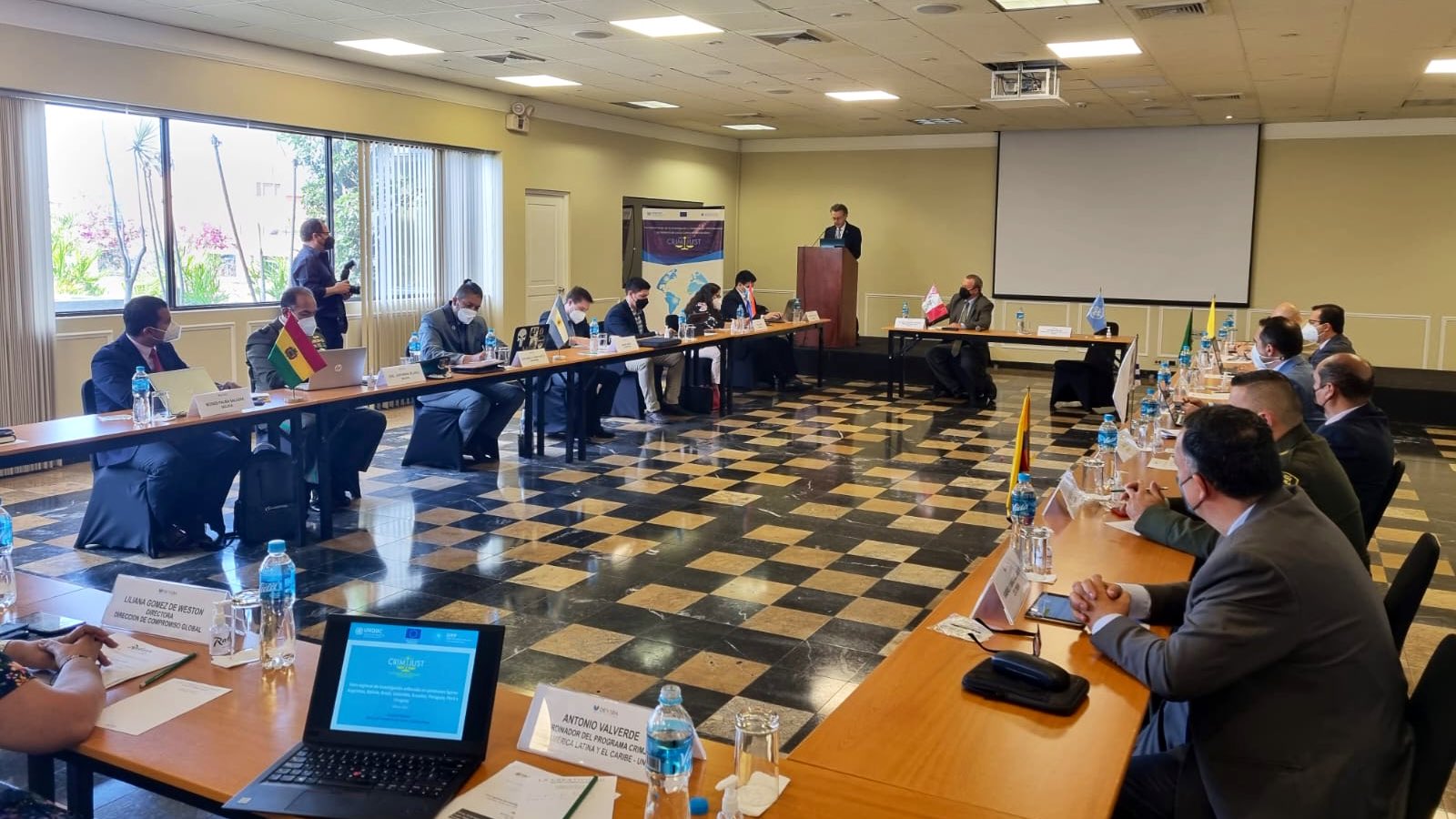 This forum was organized on the back of a series of cocaine seizures over the past couple of years, which illustrated the use of light aircraft by organized crime groups, to move drugs across Latin America. According to intelligence presented at the forum, aircrafts are capable of carrying some 500 kg per trip capitalizing on remote areas to establish clandestine airstrips, refueling stations as well as to facilitate cash transactions. Law enforcement officers and prosecutors drew upon various cases to discern key trafficking routes, specifically highlighting the air bridge between Peru, Bolivia, Paraguay and Brazil.
In addition to feeding national drug investigations, intelligence shared during this forum encouraged participants to identify and favor opportunities for controlled deliveries as well as to form a Joint Investigation Team. Discussions were bolstered thanks to the expertise of CRIMJUST partners, including its sister-GIFP project, COLIBRI, as well as the RFAI.
This event follows a series of related inter-regional investigative case forums organized over 2020, together contributing to strengthening trust between practitioners in the region and paving the way forward towards stronger criminal justice cooperation. 
This CRIMJUST activity was funded by the European Union under the framework of the "Global Illicit Flows Programme" [GIFP]. It joins existing efforts to enhance law enforcement and judicial counter-narcotic strategies beyond interdiction activities and to foster transnational responses targeting each stage of the drug supply chain.
For more information, please visit: