GIFP programmes CRIMJUST and AIRCOP deliver an inter-regional training on Special Investigative Techniques
22- 23 June 2021 - The CRIMJUST Global Programme and the AIRCOP Communications Project, UNODC programmes funded by the European Union under the framework of the Global Illicit Flows Programme, delivered an online training on the special investigative technique of controlled deliveries for AIRCOP Joint Airport Interdiction Task Forces (JAITFs) officials and prosecutors from Argentina, Bolivia, Peru, Ecuador, Panama, Colombia, El Salvador and Costa Rica, in partnership with the Network of Ibero-American Antidrug Prosecutors (RFAI).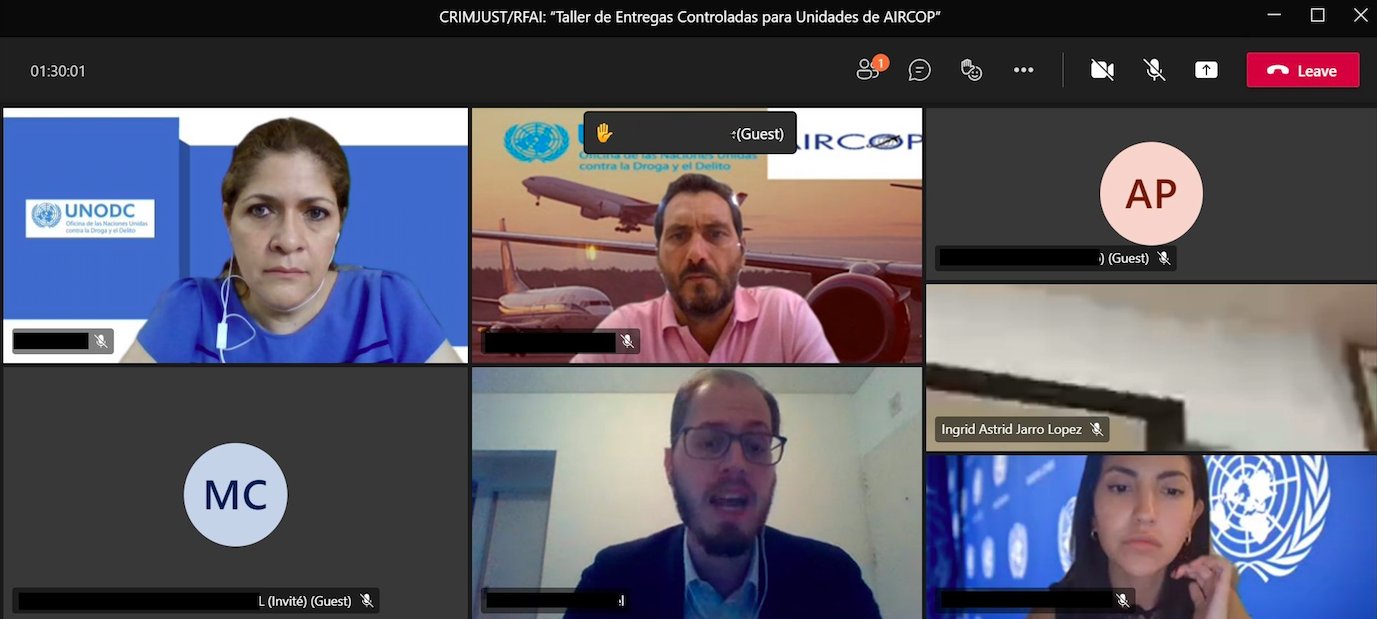 The opening ceremony included representatives from UNODC, the European Union and the RFAI. Mr. Antonino de Leo, UNODC Representative in Peru, Ecuador and the Southern Cone, first underscored the importance of instigating, maintaining and nurturing regional and inter-regional partnerships between criminal justice agencies, arguing that controlled deliveries rarely occur in isolation, but are rather contingent on the timeliness and effectiveness of communication and coordination between practitioners. He was followed by special anti-drugs prosecutor, Mr. Ignacio de Lucas Martín, Coordinator of the Network of Antidrug Prosecutors (RFAI) of AIAMP, who reiterated the commitment of RFAI of working hand-in-hand with CRIMJUST to deliver targeted training to prosecutors. Finally, His Excellency, Mr. Andres Bassols, Ambassador for the European Union in El Salvador, highlighted some of AIRCOP and CRIMJUST's achievements in helping countries better share information and investigate illicit trafficking in order to optimize criminal justice outcomes in line with the strategic guidance provided by the European Union's Global Illicit Flows Programme.
During this two-day training, RFAI experts from Argentina and Chile shared their expertise and experience in carrying out controlled deliveries by air and postal services. Drawing upon previous case studies, experts discussed best practices and lessons learned, showcasing the merits of utilizing international cooperation to facilitate investigations and to build stronger cases for prosecution. Sessions were tailored to the specific needs and capacities of JATIF units, providing opportunities for these law enforcements officials working in airports to share observed trends in their duty stations, address common challenges and discuss their respective experiences. This training further provided a platform for JAITF units to work with prosecutors from their own countries, as well as to meet their counterparts from other countries. 
This AIRCOP-CRIMJUST activity was funded by the European Union under the framework of the "Global Illicit Flows Programme" (GIFP).
The Global Programme CRIMJUST, implemented by the United Nations Office on Drugs and Crime, Transparency International and INTERPOL, seeks to enhance law enforcement and judicial counter-narcotic strategies beyond interdiction activities and to foster transnational responses targeting each stage of the drug supply chain. Its efforts to promote inter-regional criminal justice cooperation and are complemented, and supported, by its capacity-building activities, its initiative to strengthen institutional integrity and its development of research products.
Funded by the European Union and other donors, AIRCOP is a multi-agency project implemented by UNODC in partnership with INTERPOL and the World Customs Organization (WCO). It aims at strengthening the capacities of international airports to target and intercept high-risk passengers, including foreign terrorist fighters, illicit drugs and other illicit commodities as well as to detect victims of trafficking in persons and smuggled migrants. It also aims at facilitating communication and coordination between origin, transit and destination countries to disrupt cross-border illicit flows and criminal networks.
For more information, please visit: