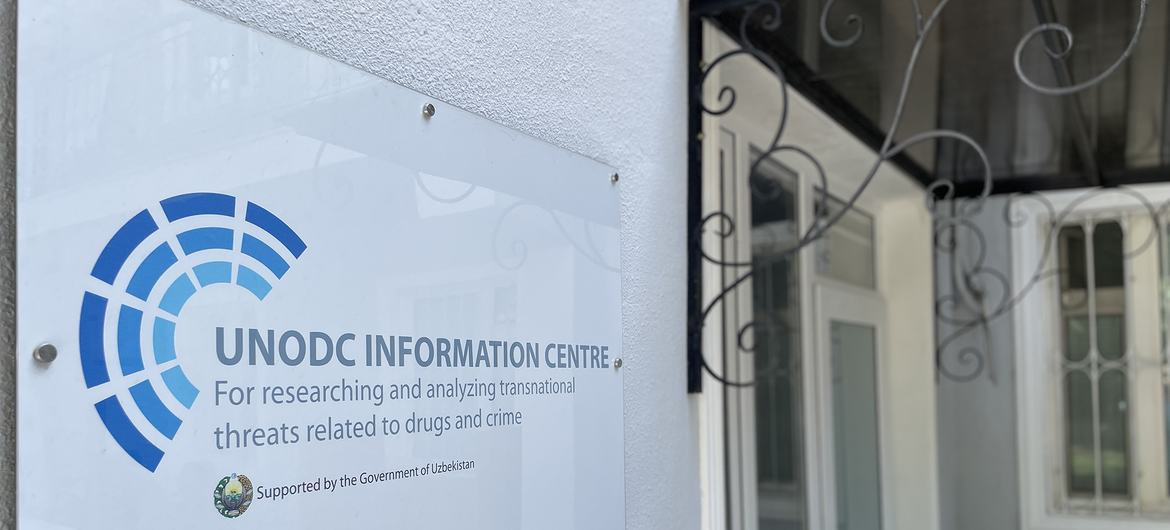 Entrance to the UNODC Information Centre in Tashkent, Uzbekistan
© UN News / Ezzat El-Ferri
Centre for knowledge
Yet, across the border, in Uzbekistan, there is a beacon of hope.
In the country's historic capital city, Tashkent, the United Nations Office on Drugs and Crime (UNODC) Regional Office for Central Asia has brought together a group of dedicated professionals to form its 'Information Centre for Researching and Analyzing Transnational Threats Related to Drugs and Crime.'
The head of the Centre Salome Flores says her team's mission is clear: "to produce knowledge that is objective, impartial, and well-integrated for the right people at the right time."
This, she told UN News, allows decision-makers to do just that: take informed decisions. It also helps in developing an understanding of the scope of the drug problem in the region, particularly in Afghanistan, where in 2022 opium production represented nine to 14 per cent of the GDP and synthetic drug production is rising rapidly.
The Centre receives data from various sources, including from governments, open sources, social media, academic research, statistics, and of course from counterparts on the ground in Afghanistan.
However, the most instrumental tool the team uses in its work is the methodology built by UNODC over the past three decades to remotely identify crops.
Crop 'signatures'
By combining ground surveys with advanced technology and satellite imagery, the agency has been able to create what are called 'signatures' to distinguish one crop from another. This allows UNODC to pinpoint with laser accuracy where opium poppy is being produced and cultivated.
The signatures were developed over many years by comparing satellite imagery with what is known as ground truths. The experts at the UN agency were able to develop hundreds of signatures using this method which required surveyors to visit specific GPS locations to verify the initial analysis.
Today, UNODC has the capability to identify various crops with an extremely high degree of accuracy, including wheat, melons, alfalfa, cotton, among others, and of course opium poppies. The signatures developed can even inform the team of the quality of the poppy fields and the expected yields.
Alex Nobajas Ganau, a geographic information officer at the centre, explained that the satellite imagery currently being used does not only provide pictures as such but includes "extra information which can be used to identify the quantity of chlorophyl and the type of crop that grows in each agricultural plot of land."
The team's work is extremely technical and sensitive. Protecting the data is vitally important to avoid catastrophic repercussions for farmers, particularly given the current political situation in Afghanistan.
Mr. Nobajas said the raw data is never shared over the internet or connected to servers so it "cannot be hacked". He said aggregated data is shared, "so rather than individual fields, we do it by district or by province."